Let's start with the bags. This season is about the oversized
asymmetrical curved top framed clutch
. Very vintage inspired, classy and understated. Colors are also warm and earthy, far from what they offered last season, the neon pink and green. I'm slowly becoming obsessed with their fall collection.
I've always thought the suede is the coolest, but you may want to have a look at the gray wool-felt version
here,
selling at US$1,495. For "Vogue's Fashion Night Out", they have these 'oh-so-adorable' miniature bags.
Made out of mink, suede and nappa with micro-quilted workmanship, the new Miu Miu minibags will be exclusively available in all the brand's boutiques that take part in FNO around the world. Next are the shoes, which I loathe. I mean how can 'glitter booties in quirky cuts, curved stacked heel, accented with pastel colored suede and awkward buckles' chic? Or even nice. I know some are huge fans of these, I heard people are already on waiting list, but come on.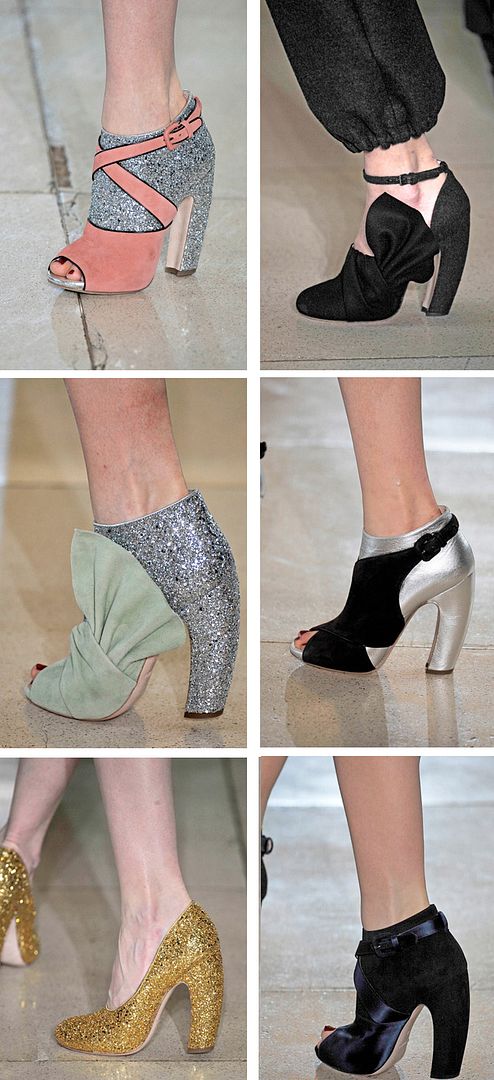 The one in the bottom right corner is not bad, but then again they're satin. And look at these two-toned pumps, gold glitter and black pony hair. Major fail.
The boots are going for $890 and the pumps are slightly cheaper, $650. View the complete accessories lookbook
here
. Images courtesy of Miu Miu and Style.com.