I had too much fun sourcing for the best Valentine's Day presents and I don't think doing one post is enough. So here are more unique, edgier selections for the more urban-sleek ladies out there. To my readers who are single this year, you don't have to wait for your prince charming to receive these, I really think Valentine's Day means it's time to love yourself too, let's say, it's a valid excuse to reward and treat yourself. Here's your call.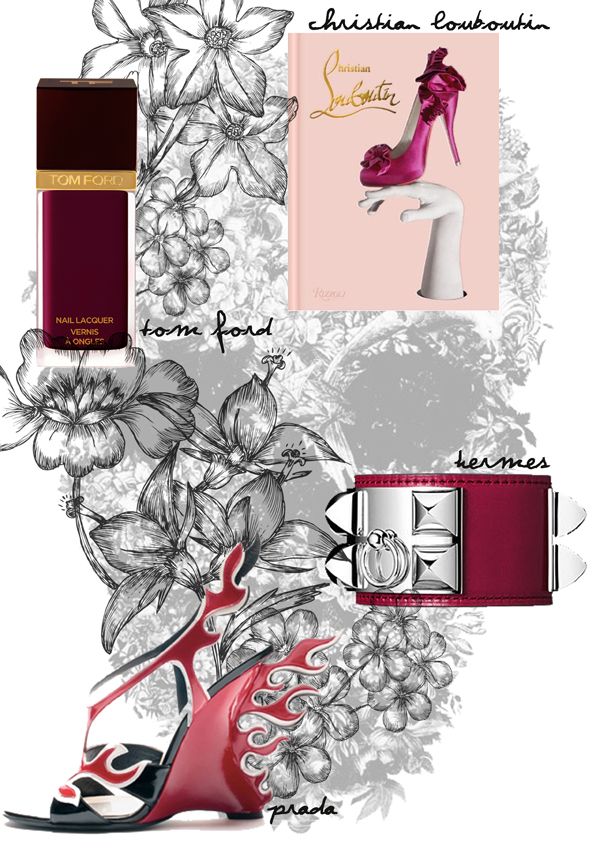 1.
Tom Ford Nail Lacquer in Bordeaux Lust
for USD30. Always aim for perfect nails, long and sharp in dark red.
2.
Christian Louboutin anniversary book
, USD150.
"An extraordinary monograph created by Christian Louboutin, renowned for his beautifully crafted handmade shoes, in particular his elegantly sexy stilettos. This stunning volume, with a fanciful and intricate pop-up, an elaborate foldout cover, and dramatic still-life photography, evokes the artistry and theatricality of Louboutin's shoe designs."
3. Hermès Collier de Chien in Rouge Garance Chamonix, the perfect shade of red.
4. Prada "flame" shoes from Spring 2012. Definitely the hottest shoes to come off the S/S 12 catwalk. Read my post about it
here
and
here
.
You can find more great gifts with these
Macys Coupons
available for everything from clothing to cosmetics. Images from various sources, graphics by
Ivonne
.