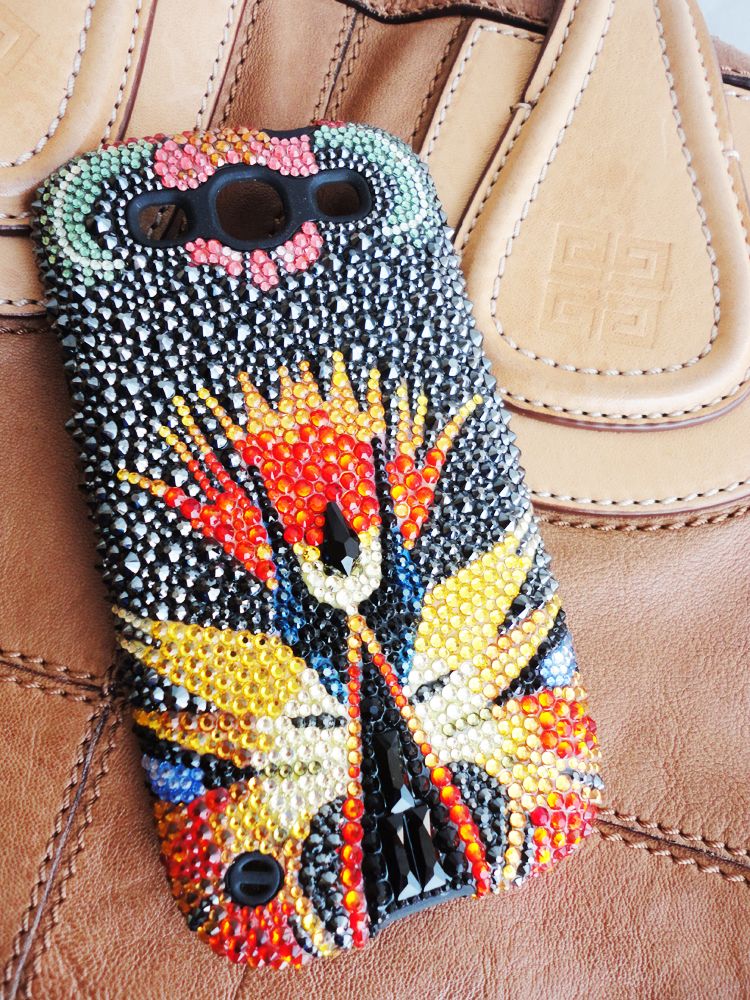 I was so psyched when I received this case last week. It's so gorgeous, the workmanship is very detailed, the color was perfect and it's exactly what I have in mind when I described my request to Lydia Hartanto, founder of
Cubic Cubic
. Anyway, last year I had my Blackberry case 'blinged' with a YSL logo, you can read about it
here
.
She has a little story to tell us about her work. She described
Cubic Cubic
as a place where you can create or enhance your goods, using materials of Swarovski Crystals. They try hard to fulfill all requests, all possibilities available, to make requests of our clients become real. The ranges of products are unlimited. But indeed, phone cases are their favorite media to bling.
Turns out she was a fan of Japanese magazines. The idea of
Cubic Cubic
started when her dance teacher introduced her to Swarovski Crystals for dance costumes. She got some leftovers crystals and tried to stick them on a cellphone case (Nokia 6630 at that time), by following tutorials in a magazine. She took it to the next level when she decided to learn more from where it came from, the school of Mobile Phone Designer, in Tokyo. After she came back,
Cubic Cubic
was born.
Each
Cubic Cubic
case represents owners' personal style. Some clients knew exactly what they wanted, and some doesn't. The color, shape, words written, will be put based on clients' requests combined with the team's suggestions. After the final design is approved, it takes 3-4 days to construct the case.
"I hope that every piece of Cubic Cubic would be a special thing for each person, like an amulet or talisman! Like how a girl would feel for her only Teddy Bear, or a boy for his favorite robot. The best comparative perhaps Usagi (Sailor Moon) with her Silver Crystal, or Harry Potter with his wand," says Lydia.
What's not to like about a personalized case, especially when you can come up with something Givenchy inspired?
Visit
www.cubicbling.com
or follow @cubicbling on Instagram for more work examples and more information.