After much long-awaited anticipation,
Sephora
online has arrived in Indonesia. Gone are the days when I have to call up a friend who's traveling overseas to get me my makeup supplies in
Sephora
abroad, and this shopping site is starting to become very tempting for all the girls in the country! They are now offering
free shipping
for a minimum purchase of Rp 200.000, and based on my experience, they ship.. very, very quickly. Alright now let's begin my review about shopping from the site!
Sephora Indonesia
(
www.sephora.co.id
) lets you explore their full array of product offerings with highlighted products on their landing page. To browse easily, they put their stuff into categories: Makeup, skincare, nails, bath & body, event Men! Besides, they will show you their best seller products, as well as their new arrivals which you can choose to view the moment you open the site. The best thing about shopping online, is of course, to get online exclusives products and online shopping gifts! Right now they're having a promotion of
FREE
Benefit
set when you spend Rp 500.000 on
Benefit
products. I'm guessing they're going to have different stuffs every month.
Moving on to the next step, is choosing your desired category, and at this time, I was deciding between getting skincare, makeup or getting bath and body products. I probably spend about 30-45 minutes clicking through everything since this is my first encounter with the site and I absolutely love it. The product range you'll find on the website is similar to what you may find in a Sephora retail store.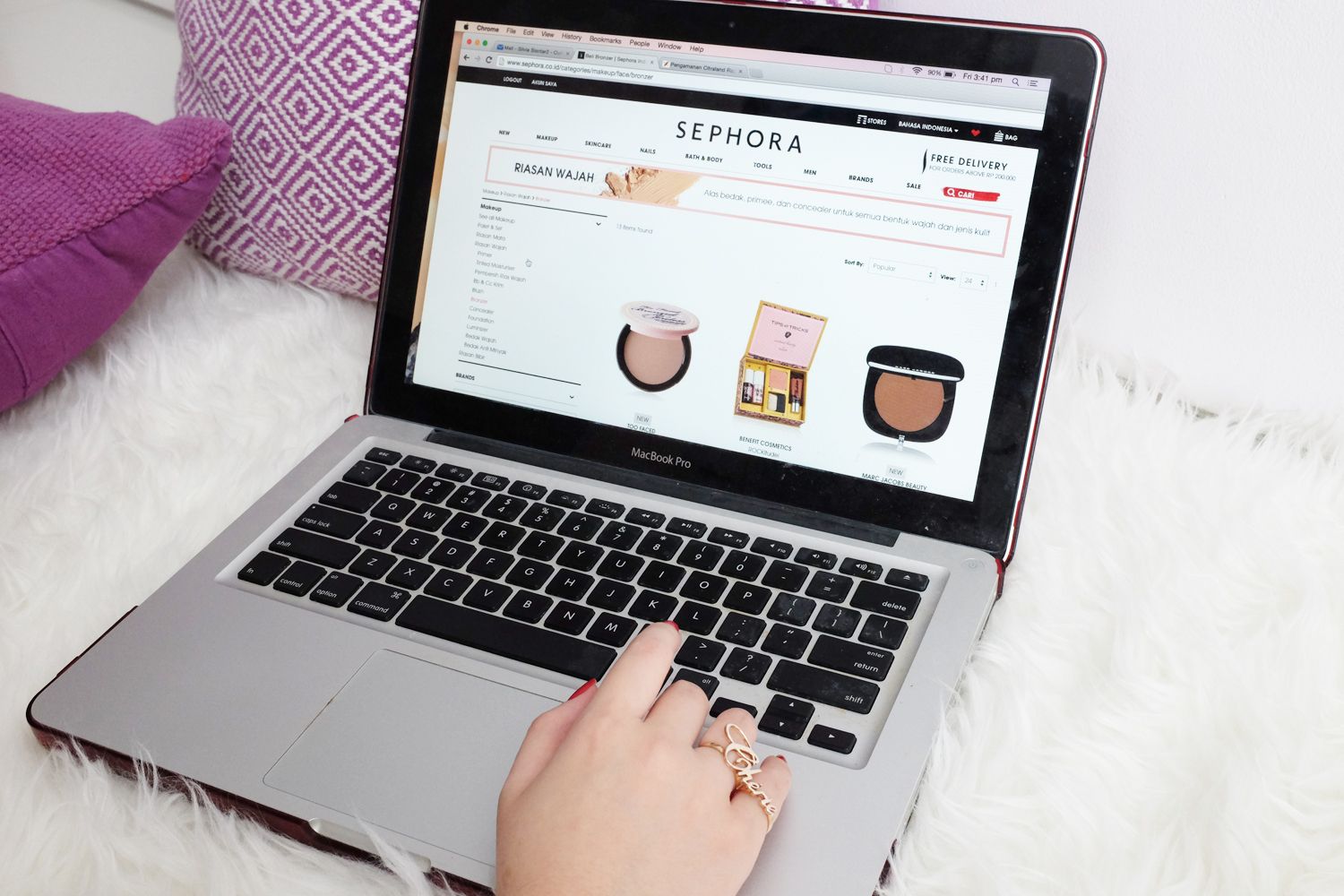 So I landed on the makeup section, which features brands that aren't available in Surabaya yet like
Too Faced
and
Stila
(which are always my Sephora favorite). I've been wanting to get a bronzer and a couple of liquid lipstick. Based on my research,
Stila liquid lipsticks
has been beauty bloggers' favorites and they have received amazing reviews. I initially wanted to get the color
Patina
but they aren't available yet, so I chose other two colors
Dolce
and
Amore
. Both are brown shades which are probably what I wear all the time (ever since I saw them on Kylie Jenner). The lipsticks are Rp 330.000 each, which I guess, is more or less USD24, the same price as the US price.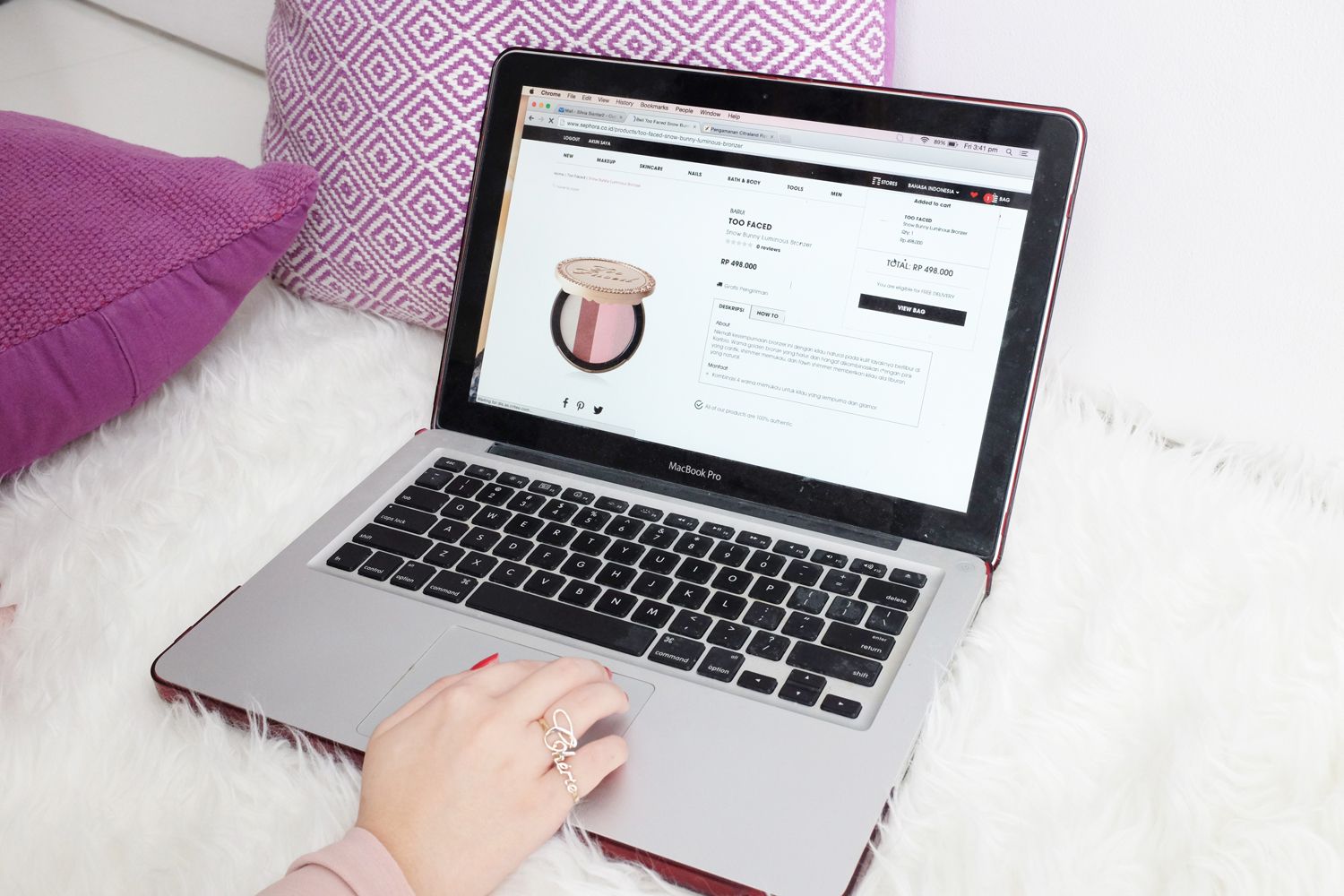 Okay, now it's time to choose the bronzers. I can't settle between
Snow Bunny
and
Bronzed & Poreless
both from
Too Faced
. Both has received tons of fantastic reviews online. After much consideration, I found that Snow Bunny might be better for my skin, because it creates a Luminous effect which I really like. Right now I have 3 products in my shopping cart which cost around Rp 1.000.000.
When I go to my shopping cart, I can see that I qualify for a free premium sample which I can choose from around thirty products. I also got a
FREE
shipping promo. Another good thing about Sephora online Indonesia, is that they have many payment options to choose from (bank transfer, paypal, credit cards, etc). After I placed my order, it's time to wait until the products arrive!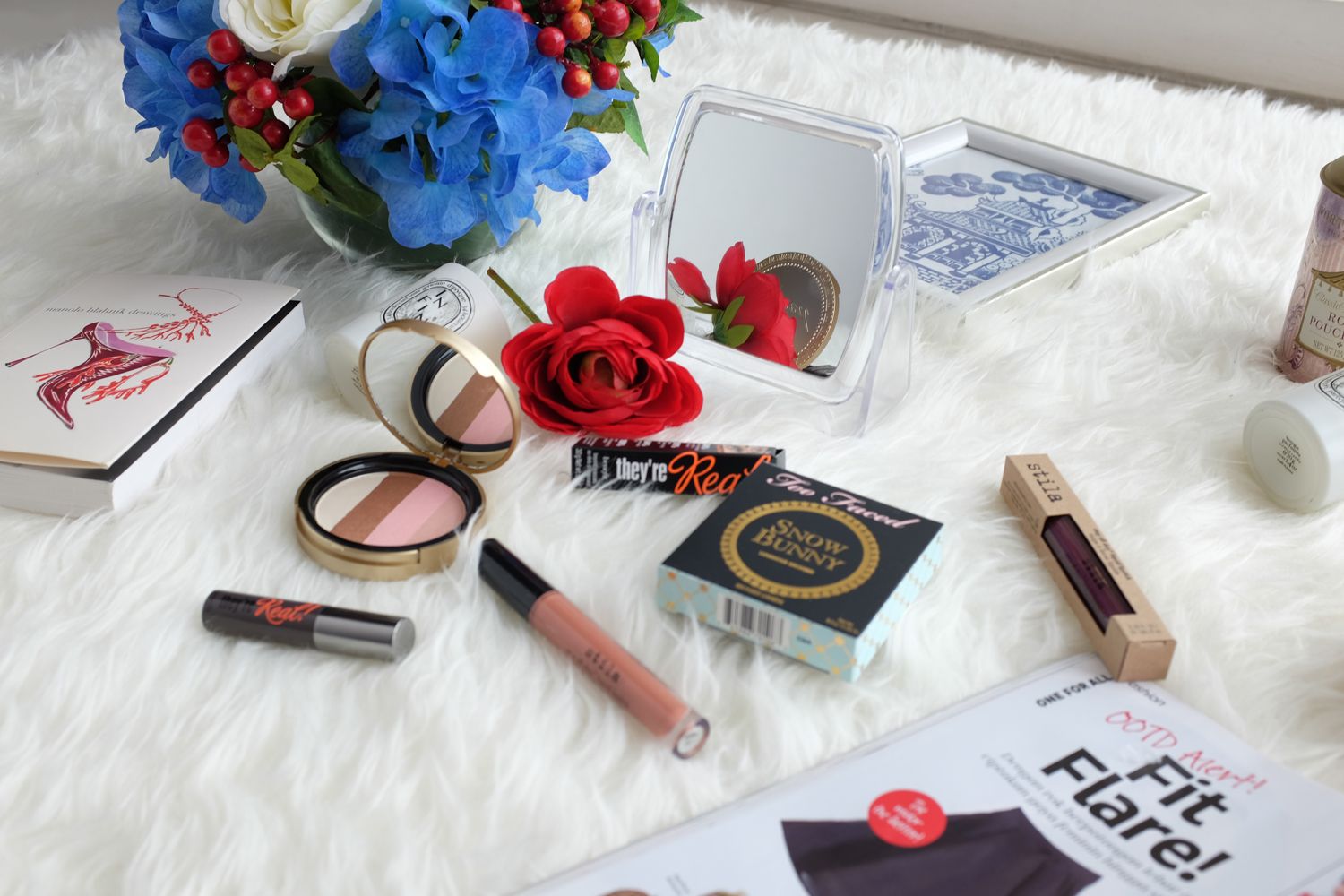 So my shipment arrived in about 3 days after I placed my order. They arrived covered in bubble wraps, so you don't have to worry when you order liquids. I'll assure you they'll arrive safely. Can't wait to try them on so I can start to write reviews on their site. Thank you,
Sephora.co.id
. My shopping experience was fun and flawless! I'll definitely shop for more in the near future.